Commercial Air to Water Heat Pumps
Compress 5000 AW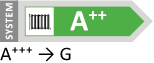 Renewable heating and cooling for commercial applications
Monoblock Air to Water Heat Pump for outdoor installation
Perfectly designed heating system for large scale projects of 22kW to 150kW
High-efficiency heating, cooling and domestic hot water preparation
A COP of up to 4.7 is achieved during heating – resulting in high seasonal performance
Can be connected to a higher-level BMS
Low operating costs thanks to high seasonal performance factors
Efficient and demand based
Demand-led control through multi-stage power control. This means that the building is heated with reduced output during the transitional period and with full output only when there is demand.
Comfortable operation
The outdoor unit is operated comfortably and easily via the colour touch display on the wall-mounted controller. Optional connection to building management systems for monitoring the system operation is possible.
Compact and quiet
The sound and flow-optimized casing effectively reduces sound power levels and generates up to 66 dB(A) in the night operation.
Flexibility
Due to high flow temperatures of up to 60°C, the unit is suitable for the modernization of heating systems in large projects, such as apartment buildings or office buildings, as well as for heating in new builds. It can be used as a stand-alone solution as well as a bivalent solution in combination with gas and oil boilers. It can also be used in combination with Bosch HIU's for heat networks.
Technical Details and Documents